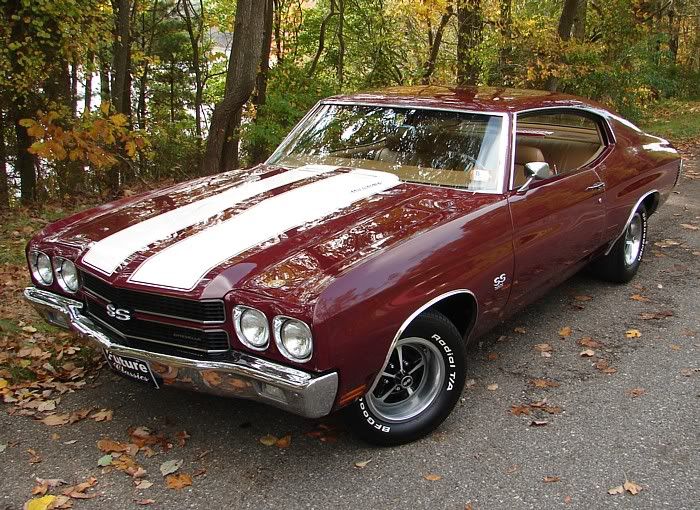 The SS 396 Chevelle included a 350-horsepower Turbo-Jet 396 V-8, special suspension, "power dome" hood, black-accented grille, resilient rear-bumper insert, and wide-oval tires on sport wheels.
Though a 375-horsepower upgrade was available, few were sold - primarily because the added cost brought the total too close to the SS 454. The 454-cubic-inch V-8, offering 360 horsepower in standard form but a whopping 450 horses in solid-lifter, high-compression, LS-6 guise. The latter made a Chevelle one of the quickest muscle cars ever built. "You can make our tough one even tougher," the brochure explained, by adding Cowl Induction to either SS model. Step on the gas, and a scoop opened "to shoot an extra breath of cool air into the engine air intake....like second wind to a distance runner." Functional hood lock pins completed the SS package. The 454 cu in (7.4 L) LS5 V8 was rated at 360 hp (270 kW). The LS6, with 450 hp (340 kW) and 500 ft·lbf (680 N·m) of torque, would provide 1⁄4 mi (400 m) strip performances in the low to mid-13 second range at 105–108 mph (169–174 km/h). The ZL1 and L88 427s both were rated at 430 hp (320 kW), but actually produced well over 500 hp (373 kW) in stock configurations. They were "race only" engines and very very few were ever installed in production cars. Most were ordered by racers who had factory connections or sold over the counter parts.
1971 Chevelle SS396 Hardtop Coupe
The 1971 Chevelles got fresh front-end styling that included large Power-Beam single-unit headlights, a reworked grille and bumper, and integral park/signal/marker lights. New dual round taillights were integral with the back bumper. Because SS models suffered heavy insurance surcharges, Chevrolet introduced the "Heavy Chevy" at midyear available with any V-8 engine except the 454, which was exclusive to SS models. For 1971, the base Chevelle SS engine was a two-barrel 350-cubic-inch V8 rated at 245 gross (165 net) horsepower. Optionally available was a four-barrel carbureted version of the 350 V8 rated at 275 gross (200 net) horsepower. The big block engines of previous years were now optional, including the 402 V8 rated at 300 gross (270 net) horsepower; and LS-5 454 V8 with 365 gross and 285 net horsepower. Chevrolet specifications for 1971 included both "gross" and "net" horsepower figures for all engines. The SS option could be ordered with any optional V8 and became more of a dress-up option than a performance option. GM mandated all divisions design their engines to run on lower-octane regular, low-lead or unleaded gasoline. To permit usage of the lower-octane fuels, all engines featured low compression ratios (9:1 and lower; well below the 10.25-11.25:1 range on high-performance engines of 1970 and earlier). This move reduced horsepower ratings on the big-block engines to 300 for the 402 cubic-inch V8 but surprisingly, the LS-5 454 option got an "advertised" five-horsepower increase to 365. The LS-6 454 option, which was originally announced as a regular production option on the Chevelle SS for 1971, was dropped early in the model year and no official records indicate that any 1971 Chevelles were assembled with the LS-6 engine.
1972 Chevelles wore single-unit parking/side marker lights on their front fenders, outside of a revised twin-bar grille. All Malibus had concealed wipers. Super Sport equipment could now be ordered with any V-8 engine, including the base 307-cubic-inch version. The 1972 Chevelle series had wide enough appeal to qualify as America's second-best-selling car. Base versions again included a four-model wagon series. Upscale versions were Malibus including the convertible models. More than 24,000 Malibu Sport Sedans were built, with a standard 307-cubic-inch V-8 rated at 130 (net) horsepower. With that V-8, the Malibu Sport Coupe was the top seller by far starting at $2,923. The six-cylinder version ran $90 less. Powertrain options in cluded the 175-horsepower 350-cubic-inch V-8 and 240-horsepower 402-cubic-inch (still known as a 396), as well as a 454 that managed to put out 270 horsepower under the net rating system. Chevelles sold in California could not get the 307 V-8 but carried a 350-cubic-inch engine instead. Through the 1970s, California cars often had different powertrains than those marketed in states with less-stringent emissions regulations.
Super Sport equipment could now be ordered with any V-8 engine, including the base 307-cubic-inch version. The 1972 Chevelle SS had a top engine rated at 270 net hp (201 kW) conforming with GM's decree that all engines were to be rated at their net engine ratings. Despite the lower rating there was no evidence that power had actually changed on production cars of that year. All other engines on the SS roster were unchanged from 1971. Chevelle wagons measured 10 inches shorter than full-size wagons and weighed about half a ton less, but sold much slower. Americans obviously still liked their big cars. Model-year output totaled 49,352 Chevelles and 290,008 Malibus -- plus 54,335 station wagons.