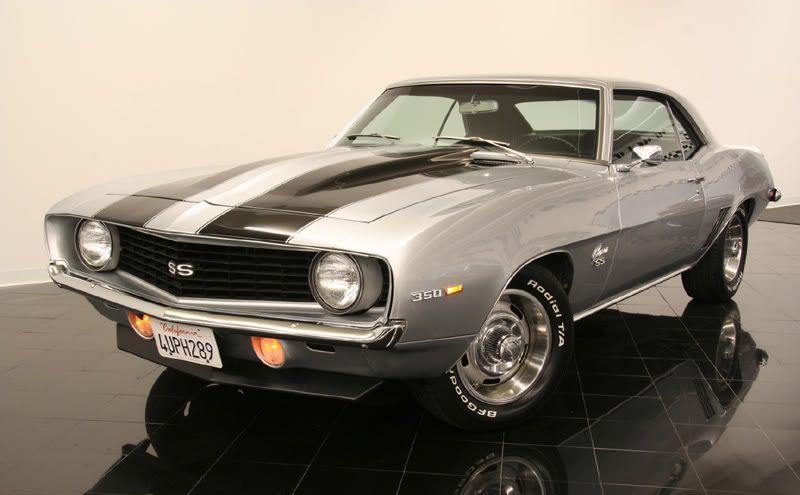 The general appearance of the
1969 Camaro
did not change much compared to the first two years, having kept the basic body lines and basic "look". This slight transformation was similar to the changes made to the 1968 model to make it look different than the 1967 model. The 1969 Camaro carried over the previous year's drivetrain and major mechanical components, but all-new sheetmetal, except the hood and trunk lid, gave the car a substantially sportier look. The grille was redesigned with a heavy "V" cant and deeply inset headlights. New door skins, rear quarter panels, and rear valance panel also gave the car a much lower, wider, more aggressive look. This styling would serve for the 1969 model year only. Collectors often debate the merits of smooth, rounded lines of 1967 and 1968 model versus the heavily creased and sportier looks of the 1969.
Several new performance options were available for the 1969 model year.
To increase competitiveness in the SCCA Trans Am racing series, optional four-wheel disc brakes with four-piston calipers were made available during the year, under RPO JL8, for US$500.30. This system used components from the Corvette and made for a major improvement in the braking capability and was a key to winning the Trans Am championship.
The Rally Sport (RS) option, RPO Z22, offered hidden headlights, egg crate grille, and 302 cu in (4.9 L) small block ("conservatively rated" at 290 hp (220 kW) at 5800 rpm, with 290 lb·ft (390 N·m) at 4200 rpm). It was backed by Muncie four-speed (mated to the standard Hurst shifter). and connected to a 12-bolt rear end with 3.73 gears. The 302 featured 11:1 compression, forged pistons, forged steel crankshaft and connecting rods, solid lifter camshaft, and Holley carburetion on a dual-plane intake manifold. The option price was US$506.60, while the SS396 went for US$348. The Z28 could also be had with dealer-installed dual four-barrel crossram intake manifold (shipped in the trunk)
Also available was the F41 suspension, which had staggered shocks, multi-leaf springs in back, faster-ratio steering box, and 15 in (38 cm) by 7 in (18 cm) rims.
A GM corporate edict forbade Chevrolet from installing engines larger than 400 cu in (6.6 l). Requests from dealers (notably Yenko) who were dealer-installing 427 cu in (7.0 l) engines in the Camaro caused Chevrolet to use an ordering process usually used on fleet and special orders (taxis, trucks, etc) to offer 427 engines in the Camaro. Two Central Office Production Orders (COPO), numbers 9560 and 9561, were offered in the 1969 model year. The COPO 9561 option brought the solid lifter L72 big-block engine, making an underrated 425 hp (317 kW) gross. Dealer Don Yenko ordered 201 of these cars to create the now-legendary Yenko Camaro. Other dealers also became aware of the L72 engine package and ordered it. Around 1,015 Camaros were fitted with the L72 engine option.
Even rarer was the COPO 9560. This option installed an all-aluminum 427 cu in (7 L) big-block called the ZL-1 and was designed specifically for drag racing. Just 69 ZL-1 Camaros were produced, probably because the engine alone cost over US$4,000 — nearly twice that of a base coupe with a V8. Though rated at 430 hp (321 kW) gross, the ZL-1 made closer to 550 hp (410 kW), making it both the fastest and rarest of all Camaros.
The 1969 model year was exceptionally long, extending into November 1969, due to engineering problems that delayed the introduction of the second generation model planned for 1970. It is a popular myth late-'69 Camaros were sold as 1970 models (due to GM publicity pictures of the '69 Camaro labeled as a 1970), but they were all assigned 1969 VIN codes. The proposed '69 SS350, intended to address the delay, was instead sold as a '70.
Source:
wikipedia.org