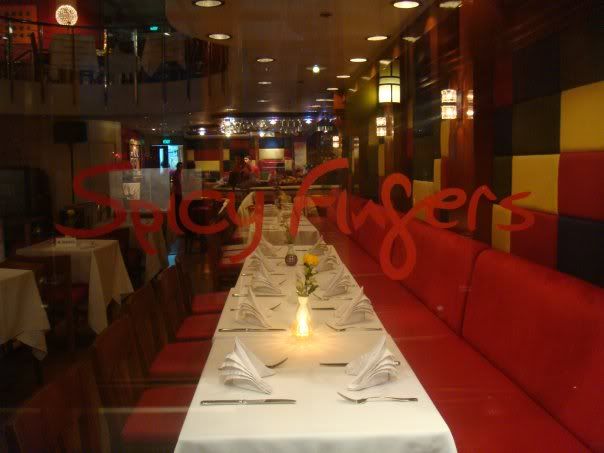 Originally conceptualized and born in Hong Kong,
Spicy Fingers Bar and Restaurant
set foot in Manila last October 2007. Spearheaded by Managing Director, Mr. Raphael Homer Echaluce, this hot spot is set to make waves in the entertainment and restaurant industry.
Spicy Fingers is a semi-casual dining restaurant and bar with a cozy atmosphere and refreshing contemporary interiors, serving delectable dishes at reasonable prices. Conveniently located at the heart of Makati, Spicy Fingers is here to bring the "zing!" back. One will surely enjoy the scrumptious food choices, enticing atmosphere, and internationally celebrated spices that come from all over the world. While there are many other dishes on the menu, Spicy Fingers, as its name connotes, offers spices from all over, using a mix of hot spices from Mediterranean, to Eastern and Mexican that will surely tickle the taste buds of many. It has the resources to give the dishes an authentic taste that is truly Spicy Fingers.
Aside from the restaurants spicy take on the menu, the music will also lure anyone who dines in with the fun entertainment brought by both Manila and Hong Kong based bands that perform every night. Spicy Fingers, along with its sister company Sticky Fingers, is well known in Hong Kong as one of the best spots for live entertainment and the Manila branch is fast catching up. One will truly enjoy great food, great entertainment, and most of all great service all in one night.
Spicy Fingers has also become one of the preferred venues for special functions, business meetings, special celebrations, product or brand launches, and parties. It can hold a capacity of 200 people inside and a very spacious al fresco area.
Operating hours:
11am to 2am Sundays to Thursdays, 11am to 3am Fridays, Saturdays and eve of a public holiday
Specialties:
Fajitas, Hot Fingers, Classic Fish and Chips, Tuna Sashimi
Special promos:
P298 Set Lunch and P120 Value Express Lunch available daily from 11am to 3pm
P338 Early Dinner Special available daily from 6pm to 8pm
P40 Happy Hour on local beers and selected cocktails from 4pm to 8pm daily
Ladies' Night every Wednesday, free drinks on selected items for all ladies from 10pm onwards
Spicy Fingers Bar and Restaurant is located at Stall #7, Greenbelt 2, Ayala Center, Makati City.
For inquiries and reservations, contact 729-8761 and 729-8932
facebook.com