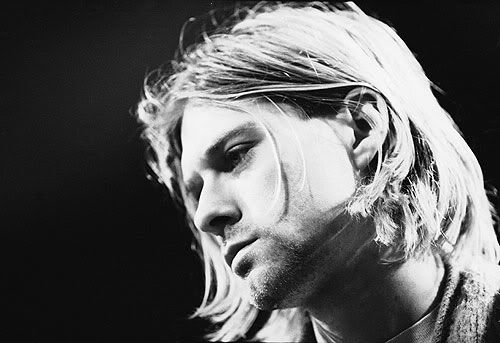 Kurt Donald Cobain
(February 20, 1967 – c. April 5, 1994) was an American musician who served as lead singer, guitarist, and songwriter for the Seattle-based grunge band Nirvana.
With the lead single "Smells Like Teen Spirit" from Nirvana's second album Nevermind (1991), Cobain with Nirvana entered into the mainstream, bringing along with them a subgenre of alternative rock called grunge. Other Seattle grunge bands such as Alice in Chains, Pearl Jam, and Soundgarden also gained popularity, and, as a result, alternative rock became a dominant genre on radio and music television in the United States during the early-to-middle 1990s. As Nirvana's frontman, Cobain found himself referred to in the media as the "spokesman of a generation", with Nirvana the "flagship band" of "Generation X". Cobain was uncomfortable with the attention and placed his focus on the band's music, believing the band's message and artistic vision to have been misinterpreted by the public, challenging the band's audience with its third studio album In Utero (1993).
During the last years of his life, Cobain struggled with drug addiction and the media pressures surrounding him and his wife, Courtney Love. On April 8, 1994, Cobain was found dead in his home in Seattle, the victim of what was officially ruled a self-inflicted shotgun wound to the head. In ensuing years, the circumstances of his death became a topic of fascination and debate. Rolling Stone ranked Cobain the Greatest Singer of All Time, in their list of the Greatest Singers of All Time, and the 11th Greatest Guitarist of All Time, in their list of the 100 Greatest Guitarists of All Time.
Kurt Cobain was born to parents Donald and Wendy Cobain on February 20, 1967 in Aberdeen, Washington and spent his first six months living in the city of Hoquiam, Washington before the family moved to Aberdeen. He began developing an interest in music early in his life. According to his Aunt Mari, "He was singing from the time he was two. He would sing Beatles songs like `Hey Jude`. He had a lot of charisma from a very young age."
In the years following his death, Cobain is now often remembered as one of the most iconic rock musicians in the history of alternative music. In 2005, a sign was put up in Aberdeen, Washington that read "Welcome to Aberdeen - Come As You Are" as a tribute to Cobain. The sign was paid for and created by the Kurt Cobain Memorial Committee, a non-profit organization created in May 2004 to honor Cobain. The Committee also planned to create a Kurt Cobain Memorial Park and a youth center in Aberdeen.
As Cobain has no gravesite (he was cremated, with his ashes scattered into the Wishkah River in Washington), many Nirvana fans visit Viretta Park, near Cobain's former Lake Washington home, to pay tribute. On the anniversary of his death, fans gather in the park to celebrate his life and memory.
Gus Van Sant based his 2005 movie Last Days on what might have happened in the final hours of Cobain's life. In January 2007, Courtney Love began to shop the biography Heavier Than Heaven to various movie studios in Hollywood to turn the book into an A-list feature film about Cobain and Nirvana.